Yeah, yeah, yeah, I know I've been MIA. Work, family, etc. you all know the drill. But there are quite a few new things in the works here folks!
Beautiful Creatures Book Discussion hosted by Fragile Little Human
Beautiful Creatures
is a great book written in the POV of a teenage boy about his life in a small Southern town. We've been discussing four chapters a week over at Fragile's blog. This is week five and it is
my week
to discuss some chapters. Hop on over and catch some of the discussion. There are still about 300 pages left, so there is plenty of time to pick up the book and join the discussion. I promise you won't be disappointed with this book!
Beautiful Creatures inspired bracelet giveaway hosted by Mrs. Vanquish of Let's Ride the Vanquish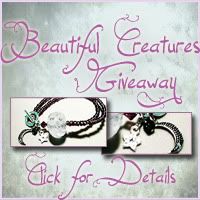 Mrs. Vanquish along with
Mary Tippett Designs
are giving away a
Beautiful Creatures
inspired bracelet. You can earn entries by posting about the giveaway on your blog, tweeting about it, etc. See Mrs. V's post on her blog for the full contest rules.
Bewitched Bookworms is live!

I'm very excited to announce that we (i.e. me, One Pushy Fox, UhYesPlease, Fragile Little Human, Mrs. Vanquish, Annie Christina, Fire Crotch, and Cutie) have started a blog where we can review the books that we read. This site will be full of book reviews and recommendations on what to read next! We have a forum where you can go to discuss the books we've reviewed in further depth including spoilers. This site has sprung up from our love for books and reading and it's a lot of fun to share our passion with everyone.
Dead in the Family Book Discussion hosted in this blog - coming soon!
I'm hosting a book discussion similar to the Beautiful Creatures book discussion hosted by Fragile for the tenth Sookie Stackhouse book,
Dead in the Family.
The book hits stores on May
4, 2010. We'll be discussing this book leading up to our meetup for the Twilight Saga: Eclipse premiere in Chicago on June 30, 2010.
I'm sure there are a few other things in the works, but leave it to me to forget!